THE 911 DEPARTMENT [RE]CREATION
The Hedonic Machines department dedicated to the Porsche 911.
"Our machines recall the past while being part of the future. They are the culmination of exceptional craftsmanship combined with cutting-edge innovations"
Our MECHANICAL ACTIVITY , at the heart of our DNA, symbolizes the concept of [re]creation

The recreational aspect of this activity is carried both by the immersive journey in which the customer takes part during the rebirth of his vehicle, and by the pleasure provided during the culmination of this process and the driving of these tailor-made vehicles.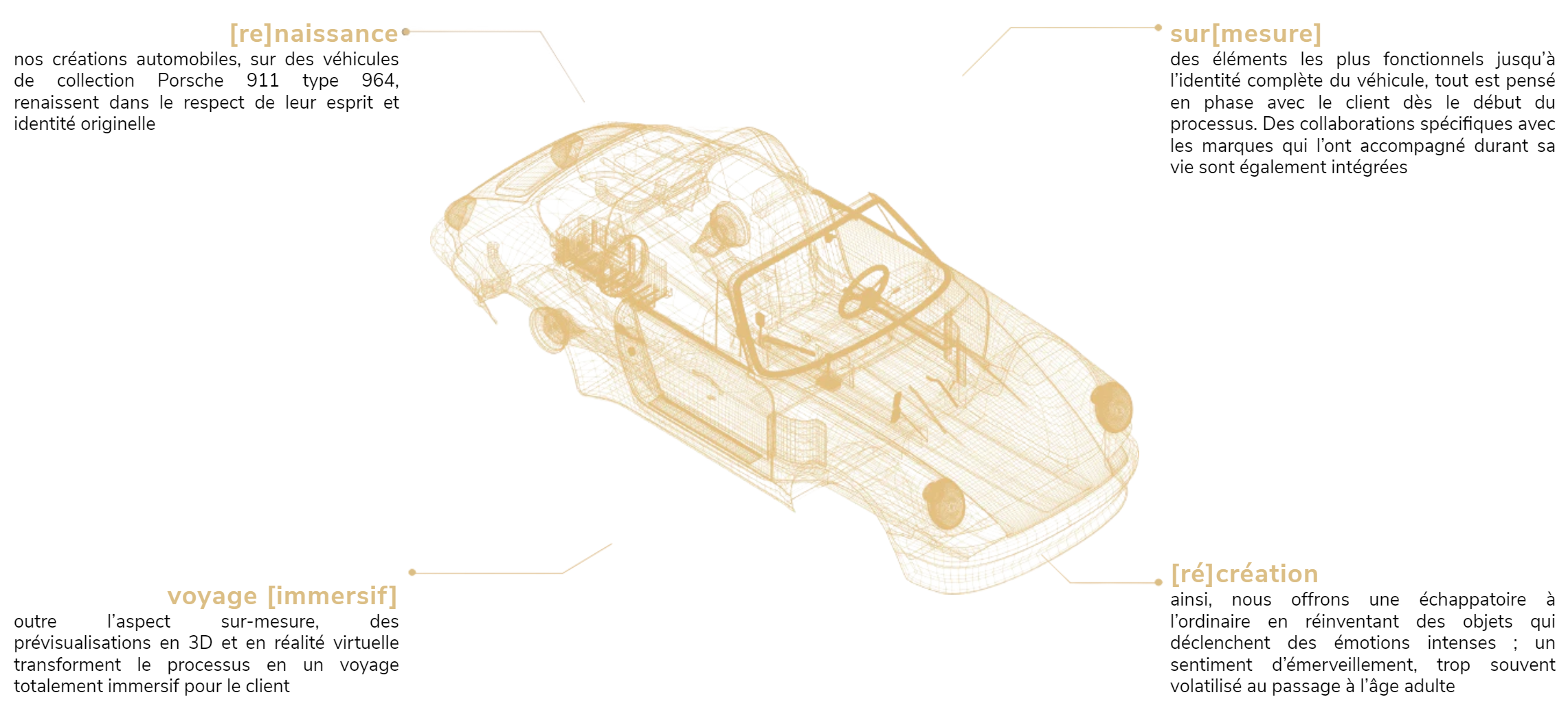 The custom-made machines are completely redesigned in our design studio. From the complete identity of the vehicle to the most functional elements, everything is designed in phase with the customer from the start of the process. Specific collaborations with the brands that accompanied him during his life are also integrated.
They are then recreated from their bare frames. The body modifications are made exclusively in aluminum with hand-formed parts.
"We have chosen French crafts and arts and crafts for their exceptional know-how and the uniqueness of their work. We wanted to highlight and perpetuate this sector which contributes to the influence of French excellence internationally. These craftsmen were already working on the restorations of our classic vehicles. »
The bodywork modifications (fenders, front bumper, sills, rear bumper and diffuser) are exclusively made of aluminum with parts formed by hand after manufacturing a wooden template by our master trainer.
The work of the upholstery, traditionally manual, has meanwhile been pushed down to the smallest detail, like the original seats, entirely redesigned and transformed.
"The specifications were to keep the original parts as much as possible and to transform them to keep the soul of this 964" explains Serge Heitz
MOTORIZATION
The original engine, initially 3.6L and 250 HP, is completely disassembled, prepared and reassembled with specific or new parts.
The result is a unique Hedonic engine with a racing type preparation offering a power of 375 HP for 3.8L.
The choice of an engine with a historic RSR-type aesthetic is a nod to the Roaring Twenties of racing cars. Its entirely bespoke trim takes up the codes of the 906.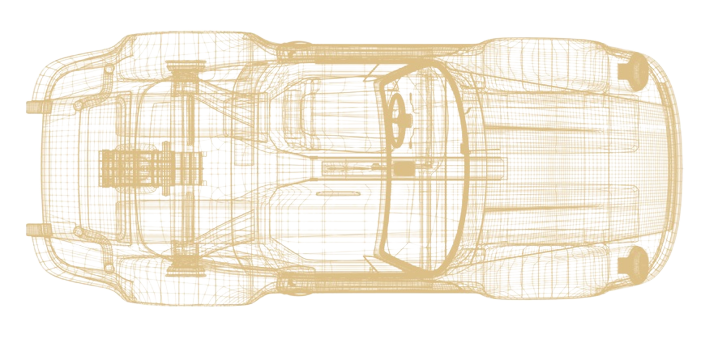 COLLABORATIONS
Specific collaborations with exclusive brands that have accompanied the client during his life are also integrated into the project.
For the first project, the inner watch is signed by a French watch brand which has developed in parallel a unique watch for the new Hedoniste. Many other collaborations will also be present.